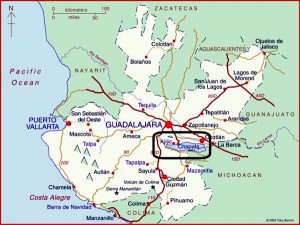 Ajijic is a majestic mountain town on the northeast shore of Lake Chapala at an elevation of 5,000 feet. For the most part, year round, the days are warm and sunny with an average temperature of 75 degrees. Ajijic may only be rated #2 for perfect weather by the National Geographic, but if you take into consideration the close proximity to an international airport, many gringos rate it #1, as the perfect destination.
Why have so many North Americans gravitated to the Lake Chapala area?
Weather!! The top reason has to be the weather. It's simply the best you will find anywhere on earth. That's a grandiose statement, but local legend has it that in 1966, National Geographic called it the second best weather on earth year round. The residents will tell you that National Geographic got it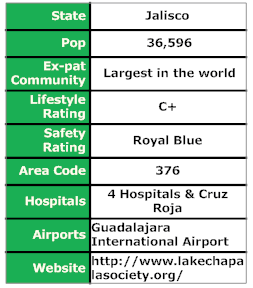 In our "At A Glance" chart, to the right, the population figure reflects the combined censuses of Ajijic and Chapala.  Ajijic is part of the municipality of Chapala, and only three miles from the town center, closer to the lake.  There are more than 50 ex-pat organizations in the area. Based in the town of Chapala is the largest in the world, the Lake Chapala Society, which has over 4,000 members. This amazing group has the largest English book library in Mexico, a huge video/DVD collection, restaurant on-site, several meeting rooms, indoor and outdoor areas for meetings, enormous gardens with ponds and water features through-out the grounds of their headquarters. They have daily activities scheduled, from the many levels of Spanish classes available, to theater presentations, Red Cross activities, book clubs, and dances.  The weekly health fairs have on-site screening for eye exams, diabetes, cancer, etc.  It's a great way to meet people and become part of a larger community. There is an American Legion Chapter that celebrated their 50th anniversary in 2011 in the Chapala area and they, too, have a full agenda of activities, too.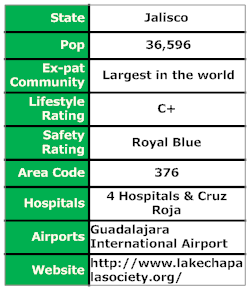 But, even with over 20,000 ex-pats here during winter season, the ambience is still old Mexico.  Ajijic village is over 400 years old with historical churches and landmarks. You can avail yourself of many the day trips available to villages in the surrounding area for enjoying the local art and culture of a society that is between 1,000-1,500 years old.
The safety rating is in the medium, Royal Blue, range which may appear somewhat alarming at first glance.  However, we caution you, to always to bear in mind what that means relative to states north of the border.  See our safety charts in the article, Murder in Mexico.  What a Joke! for a reality check on safe living.  The largest ex-pat community in the world can't be all wrong.
The restaurant scene is excellent ranging from the taco street vendors to a wide variety of restaurant choices, pizza, Italian, Chinese, German, and Greek. There is a brew pub now serving excellent Mexican artisan micro-brews. The food is good and more than reasonable in cost.
There are three local golf courses and several more courses in Guadalajara, 40 minutes away. In addition, there are canoe and kayak, sailing, water-ski, hiking , photography, computer and gardening clubs, and many volunteer groups. You will be hard-pressed to be bored in the Ajijic area.
The Chapala/Ajijic area has two full-service hospitals, Hospital Clinica Ajijic and Clinica Maskaras.  And in nearby Guadalajara, are the  Americas Hospital with a bi-lingual staff, full diagnostic, surgical and treatment services and the Hospital del Carmen another full–service hospital with bi-lingual staff and 24 hour emergency and ambulance service.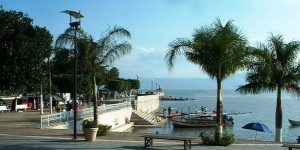 To get in and out the Lake Chapala area, you use the Guadalajara International Airport which is 25 minutes away by car.  Although it appears somewhat "remote" on a map, Ajijic has, not only perfect weather, but the perfect location – away from the hustle and bustle of a large metropolitan area, but close enough that using the amenities is no more inconvenient than living in the suburbs of an American city.
If you're looking for an large, active ex-pat community located on the shores of a scenic lake with a beautiful mountain backdrop, a nearby international airport and perfect weather, you have found Paradise.